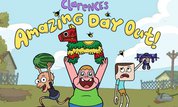 Click "Allow" to play Clarence`s Amazing Day Out!!
Click "Always allow" to play Clarence`s Amazing Day Out!!
There are some games on NuMuKi which require Flash. Enable it above.
Allow Flash pop-up not showing up? Click here
Many browser games, especially the older ones, are developed using Flash. Each game on our website is thoroughly checked before publishing so you can rest assured that playing Flash Games on NuMuKi is absolutely safe. For any questions or issues, please Contact Us.
First, you need to wait for the page loading to complete to see the Allow button.
NuMuKi
About Clarence`s Amazing Day Out! Game
Everybody is familiar with the struggles of the last few days or hours of the summer holiday. It is all about doing the things that you forgot doing while you had plenty of time. In such days everybody tries to have the fun thrice they had during the whole holiday, and that more than often becomes a challenge that might even end badly. But what can you do? The school days are coming fast and the time is short, who knows when else you will get the free time to do that again. This is how we find ourselves now along with nobody else than Clarence, who is desperate to squeeze the last few drops of fun out of this late summer. He came up with quite a few challenges for you to do as fast as you can. Remember there is no time left for anything else than having fun in Clarence`s Amazing Day Out Game. The awesome thing about this particular one is that there are more games within a single one. There are quite a few different little games all of them requiring your quick reflexes when it comes to clicking things on the screen. While you are playing, they will not come one after the other, but at random. One of them that you will undoubtedly face is the one having a pinata as the main entertainment. As you would usually do with such a thing in real life, here you have to click on it as many times it is necessary to break a hole in it. There is a time limit here, so you do not have all day to do that because as I already told you, summer is ending. When you succeed in popping the pinata, unfortunately, there will not be any candy but only some bees that understandably got kind of angry after being hit repeatedly for a while. Pass round one and go to the next one where the next possible game might be dragging the monkey. The toy is trapped in a maze, and you need to get in out fast before the time is up. Do not touch the walls because the balloon will pop, leaving the monkey without any chance of escaping.
Further on in the next round, you might find yourself facing a challenge, namely the timed click one. Here Clarence`s best friends are in the mood for a dance, but they need a little push. Watch the arrow go from one end to the other of the bar and when it passes over the red bit of it, click anywhere on the screen. If your timing was right, then one of them will begin to dance. Do the same for the other, and the point for this round will be yours. Next, we are taking everything outdoors for some football challenge. Even if one might not notice that from a first glance, Clarence has excellent skills at goalkeeping. He is about to prove them to you now with a bit of help. The aim here is to click on the balls that are threatening the goalpost. Wait for the ball to be kicked and see the direction in which it is going then click to parry it. It is more straightforward than it sounds, I promise. Another unique game that was invented for you is something that similar to bowling, but without the bowling ball and the pins, instead, there is a huge watermelon and many bottles of washing up liquid and soda. You have to strike them all off the table with the improvised bowling ball. Way funnier than the classic style of playing. Next, have fun with your friends and a water sprinkler. Carefully watch the table and see when they pop their heads out and take the chance and sprinkle them with some water, do not miss them or you will lose the round! If you did right, move all the fun to the backyard. Take the basket and catch all the falling eggs which are laid by the hens. Break one, and it is game over, catch them all and everything will be eggcellent. If you are still not tired by all the frenzy try out another one. Gather all the marbles on the table and put them in the moving glass. Try to get them all and make Clarence happy again, then put on your Viking helmet and start climbing trees. Click on the screen to make the boy climb into the basket. The faster you click, the quicker he gets to it in time. Play this game and find out many other mini-games within it. It will surprise you each time you start a new one!
Game Details and Stats
Clarence`s Amazing Day Out! is an excellent Clarence game that you can play on NuMuKi for free. It has been added to our website on Monday, September 10, 2018. The game has been played 142 times so far and has received a rating of 94 / 100 from a total of 36 user votes, 34 likes and 2 dislikes. Clarence`s Amazing Day Out! uses Flash technology to be compatible with most browsers. The game window resolution has been optimized for best visual performance, having the width of 660px and the height of 490px. If you enjoy playing Clarence`s Amazing Day Out!, you might be excited finding out that there are 11 more Clarence games you can try! The most popular is Awesomest Battle in History and the most recently added is Zookeeper Caper
You may also like these games