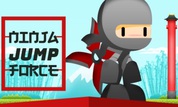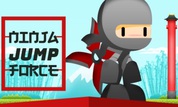 Play Now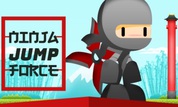 Unfortunately, Ninja Jump Force is not available on your device. Please try one of the related games below or visit our HTML5 category.
About Ninja Jump Force Game
You'll spend hours trying to beat the Ninja Jump Force game! Are you a skilled warrior with lightning-fast reflexes? It's time to test and improve your abilities in the epic Lego universe. Are you good enough to collect all the coins, open the doors, and escape the Dojo? There's only one way to find out!
Can you complete all 30 levels? The ninja's mission is to overcome all the obstacles and collect the coins in the room. Once he has succeeded, he needs to find his way to the door. Will he make it? It's all up to you!
How to Play
Let's start this challenge! Have you noticed that the protagonist runs from one side of the room to the other automatically? He is pretty fast too! Your job is to click at the exact right moment to make the ninja jump over the obstacles and onto the platforms.
Be careful! Once the hero touches the spikes, you will need to restart the level!
The tricky part about this game is switching the direction of your ninja's run. Have you noticed that you can only do that by running or jumping towards a wall? Therefore, you will carefully need to consider your route.
To make things even more complicated, you can come across pink bamboo platforms that disappear after you touch them once. Can you get past them?
What else you should know
To make the door appear and complete a level, you need to collect all the coins. Pay attention! Sometimes you will need to gather them in a specific order. Otherwise, you will get stuck and restart the level. Think of a strategy, then click at the right moment to get past any level!
The fast pace and engaging atmosphere will keep you glued to the screen for hours. How fast can you finish all the levels?
Step inside the world of Ninjago and train your skills! You will become more witty and agile in no time!