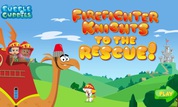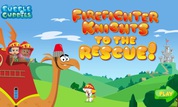 Play Now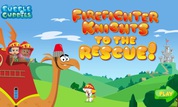 Unfortunately, Firefighter Knights to the Rescue is not available on your device. Please try one of the related games below or visit our HTML5 category.
About Firefighter Knights to the Rescue Game
Oh no, a fire-breathing dragon is threatening the kingdom! Are you ready to give the Firefighter Knights to the Rescue game a try and stop the creature? Now, Molly and Gil must save the day and get rid of the villain for good. Can you help them keep the fire under control?
Hop on Hydrangea's back and go after the evil dragon! To save the kingdom, you must collect all the buckets of water you can find. Just make sure to avoid the smoke, because your friend can't fly through it! Are you confident you can complete this challenge and put out the fire?
How to Play
Let's get to work! To guide your dragon as she flies through the sky, you need to use your mouse. Move your cursor up and down to change directions, or tap on the screen to avoid the smoke clouds. Once you're ready to spray the water, just click in that direction and put out the fire!
Your main goal for today's mission is to help Molly and Gil stop the evil dragon. To do this, you must follow the villain around and make sure the Old Barn and the Royal Castle won't burn! Collect enough buckets of water, practice your counting, and head toward the affected areas. Doesn't that sound thrilling?
Remember that Hydrangea can't fly through smoke, so watch out for the dark clouds! If you see them getting closer, just get low and go under. Are you looking to run away from danger even faster? If so, catch a wind gust, and you will earn a speed boost for a limited time!
Have you arrived at the Old Barn and Royal Castle yet? If so, it's time to shoot some water at them and stop the village from burning down! Just make sure not to touch the fire, because it's very hot! Make one wrong move, and your friends can get hurt!
Well, are you ready to begin the adventure? Join Molly and Gil and help them defeat the fire-breathing dragon! It's up to you to become a hero and save the village!