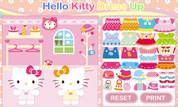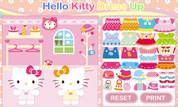 Play Now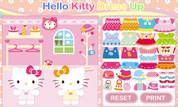 Unfortunately, Hello Kitty Dress Up is not available on your device. Please try one of the related games below or visit our HTML5 category.
About Hello Kitty Dress Up Game
Try out the Hello Kitty Dress Up game if you're a fan of the adorable fashion sense of the world's most famous cat! Hello Kitty loves to wear ruffled and colorful dresses, as she represents the kawaii trend in Japan. If you have ever wanted to experiment with this style and take a glance in her closet, now you can!
What is more, her orange friend, Minny, is also invited to this make-over challenge. Can you step up to the task and be a stylist for the two girls?
The challenge allows you to put together outfits for two of your favorite Hello Kitty characters. What sets this apart from other games is that you get to hang out in the girl's bedroom!
How to Play
Luckily, your mouse is the only thing you need to ace this design challenge. Take a look at all the clothes on the left side of the screen and decide what items you like best! Once you've picked, click and drag the piece of clothing to one of the characters. Make sure you position it precisely!
There's a wide variety of items you can choose from! There are eight dresses, six tops, and four skirts that you can mix and match. Some of them are organized into sets, but you can always combine two or more sets to come up with a unique look!
What is more, you can add a fun accessory to add more personality to your outfit. Can you decide which hat, pair of shoes, and purse looks best in this situation? Try out different options until you come up with the final version of Hello Kitty's and Mimmy's outfits.
Before you finish, use some clothing items to decorate the background! For instance, you can hang up some dresses in the kitties' closet or put a hat or a purse on the hanger. These small touches will add a lot of personality to your look!