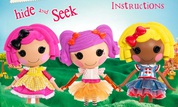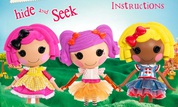 Play Now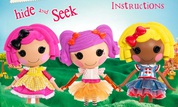 Unfortunately, Lalaloopsy: Hide and Seek is not available on your device. Please try one of the related games below or visit our HTML5 category.
About Lalaloopsy: Hide and Seek Game
The fashionable ragdolls have a new hidden object challenge for you in the Lalaloopsy: Hide and Seek game! Crumbs Sugar Cookie, Peanut Big Top, and Dot Starlight hid items outside their cute houses and gardens for you to discover! Whether they're in plain sight or blend in with the background, you'll find the dolls' most unique objects! Will you take on this challenge?
Your role in this game is to find items hidden around each ragdoll's house and garden before the time runs out! This type of activity asks for special attention to detail, so keep an eye out for anything that stands out! Maybe you'll discover objects you've never seen before in the Lalaloopsy world!
How to play the game
To find the right items, use your mouse. First, you'll have to choose a level. You'll notice that each doll's house has different difficulties ranging from Easy to Medium and Hard. Then, move your cursor left and right to navigate the environment. The items you need to find are listed at the bottom of your screen. Once you spot one, click on it, and a checkmark will appear next to it on your list!
You'll need to find all the items before the time runs out. Each level has a timer based on the difficulty and how prominent are the objects you need to uncover! Keep that in mind when attempting the last round, as it is the shortest. You'll have to start over if you don't find all the items before the time ends.
The ragdolls have special items they want you to discover, but they're also very good at blending them in with the background. While Crumbs Sugar Cookie's level is bright and has many objects in clear view, Dot Starlight's is set during nighttime and will be more challenging!
Are you ready to impress the ragdolls with your sharp observation skills and beat every level? Let's see what they're hiding!