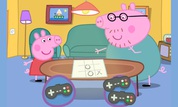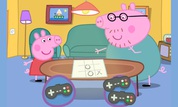 Play Now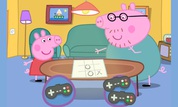 Unfortunately, Snorts and Crosses is not available on your device. Please try one of the related games below or visit our HTML5 category.
About Snorts and Crosses Game
Play the Snorts and Crosses game if you're looking for a fun challenge in the company of Peppa Pig and Daddy Pig! The two love to spend time together and play games to develop their logic while having fun. Luckily, you've been invited to join in on one of their favorite games: tic tac toe!
However, the catch is that you'll play Peppa's family version, called Snorts and Crosses. It sounds like a ton of fun!
The game consists of several rounds of tic-tac-toe. The best part is that you get to choose if you play against the computer or a friend! Whichever version you choose, you'll surely have a ton of fun hanging out with Peppa and her family!
How to Play
If you've ever played tic-tac-toe, you already know the rules for this challenge. Even if you're new to this game, it's easy to understand. You and your opponent will take turns placing an element on the 3 by 3 grid on the screen. The goal is to make a line using three of your icons.
Make sure to be smart about your moves! If your foe manages to make a row before you do, you'll lose the round!
Click anywhere on the board to make your first move! Instead of using Xs and Os as the original game, Peppa and her dad use custom symbols. Can you guess what they are? Of course, the two of them play with pictures of their faces. How cute!
Whether you play alone or with a pal, the winner is the one who wins three rounds. Check the score at any time by glancing at the icons at the bottom of the screen! Can you believe you get a shiny gold trophy for each victory?
A friendly competition will sharpen your logic and help you have fun with your friends! Besides, Peppa, your favorite pink hero, will join you for an added dose of fun! If you give this game a chance, you'll play until you become a tic-tac-toe master.