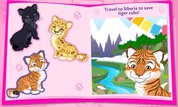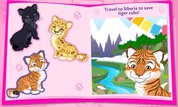 Play Now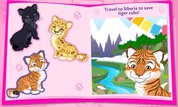 Unfortunately, Care N Cure is not available on your device. Please try one of the related games below or visit our HTML5 category.
About Care N Cure Game
Try the Care N Cure game to become Barbie's number one helper at the wildlife veterinary clinic! Do you want to explore exciting locations, learn about endangered species, and rescue cute creatures? Then you should put on your white coat and join the world's most beloved blonde in this exciting and educational game!
Barbie will be by your side all along, showing you around and helping you discover more facts about wildlife. What is more, this game is terrific fun! Can you think of a more exciting way to spend your afternoon?
Explore new environments to capture injured animals!
The game consists of three different stages that you can play in any order you choose. Each one of them will send you to a remote, yet beautiful location, that is home to an exotic species. Would you like to explore Greenland in search of wounded polar bears? Does saving Indian snow leopards sound more exciting? Do you happen to be a big fan of pandas? Either way, pick one and get started on an exciting adventure right away!
The next step is exploring the luscious background in search of animals in need of assistance. Some of the animals in need will be hiding in remote and unexpected places! Use your mouse to hover over every element of the scene to discover hidden animals. Once you found one, click on it to take it to the clinic. You can check on how many critters you have left by glancing at the top of the screen. Don't give up until you find them all!
Being a wildlife vet is not as easy as it seems!
Now that you have all the wounded animals in the clinic, it's time to treat them! There are several steps involved in caring for wildlife. First, use your mouse to place the animal on the consultation table and measure its temperature using the thermometer. Keep clicking to find out if our furry friend has a fever! Next, go ahead and use the x-ray machine to find out the location of the injury. You will need to look closely and find the red spot!
Have you figured out the problem? Now it's time to treat it! Use one of the available tools and see if it helps our fluffy patient. Remember that the same type of injury requires the same treatment. It will help you be swifter in the clinic. This is extremely important since you are up against the clock! Make sure you place the animal back on the conveyor belt as soon as you can; otherwise, you will need to start over!
Can you help out all the three species of animals in this game? You will learn more about wildlife and have a lot of fun in the process! What is more, Barbie will reward you with a cool printable worksheet at the end! Can you believe that you are on the way to becoming a wildlife expert?