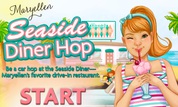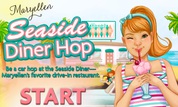 Play Now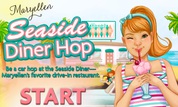 Unfortunately, Seaside Diner Hop is not available on your device. Please try one of the related games below or visit our HTML5 category.
About Seaside Diner Hop Game
Beat the summer heat and enjoy a delicious fast food meal at the town's new drive-in restaurant in the Maryellen Seaside Diner Hop game! Maryellen loves spending her time at her favorite drive-in diner in Daytona Beach. Join her while she admires the cool cars that come to the restaurant and the fast-moving waitresses, or carhops, as they serve the hungry drivers all summer long!
The Seaside Diner is famous for its tasty burgers, crispy fries, and sweet milkshakes! Your job is to put on your fabulous skates and rush from car to car with the correct order! Earn money and keep your customers happy to receive some good tips at the end of each week. Let the summer fun begin!
How to play the game
The only tool you need to play this game is your mouse! Use your cursor to control the carhop and take, place, and deliver orders.
First, when a car arrives, the order will be hidden. You need to guide the carhop towards it to reveal the order. Next, click on the items in the Order Window that correspond to the requested ones to place an order. Then wait for them to appear in the Pickup Window. Once they're in full color, they're ready to be served.
To deliver the order, simply click on the ready items to put them on your tray and guide the carhop to the right car. If you picked up the wrong item, don't worry! You can get rid of unwanted items by clicking on the trash bin.
Do your best to deliver all the orders in time! Each order has a timer, and if the customers wait for their order for too long, they will leave! Moving faster means more money and more tips, so keep the time bar at the bottom of each car green!
Can you do a good job and help make Maryellen's favorite restaurant, Seaside Diner, the most popular drive-in fast food in town?