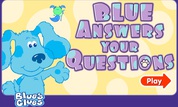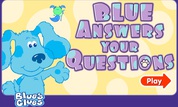 Play Now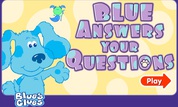 Unfortunately, Blue Answers Your Questions is not available on your device. Please try one of the related games below or visit our HTML5 category.
About Blue Answers Your Questions Game
Read fan letters and learn more about Blue in the Blue Answers Your Questions game! We know that you love the adorable dog protagonist of the famous Blue's Clues show. However, there's always something new to know about your favorite friends.
Luckily, you'll get to sneak into the room where Blue keeps her fan mail and even select a few letters. She will open the ones you choose and answer the questions inside. How exciting!
With the help of this game, you'll practice reading while also enjoying the company of your favorite pals. Besides, colorful animations and charming sound effects will accompany you in your learning journey. Practice reading while finding out more about your favorite blue dog!
How to Play
It's time to step inside the room where Blue keeps all her mail! Can you believe she receives all these letters from her fans? You can browse through them by using your cursor. By simply hovering over one of the letters, you'll hear the narrator read out the question in the letter. Try to follow along or even read by yourself!
Next, it's time to decide which letter you want Blue to respond to first. Three of the letters are already on the screen, but you can also see three more by pressing the button on the left side of the screen. After selecting the question that sounds the most interesting to you, click on the arrow in the bottom right corner to watch a cut scene and hear Blue's reply.
The best part about this game is that you can ask as many questions as you wish! If you want to play again, all you have to do is select the 'Yes' option after Blue's reply. By the end of the game, you'll learn a ton of interesting facts about blue, like her favorite song, the bug she likes most, or her deepest wish.
Take up this great opportunity to hang out with Blue and get to know her better!