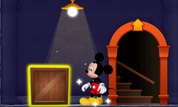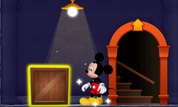 Play Now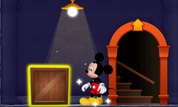 Unfortunately, Bump in the Night is not available on your device. Please try one of the related games below or visit our HTML5 category.
About Bump in the Night Game
Mickey Mouse is visiting Count Mickula in the Bump in the Night game. He wants to see if his house is haunted. The Count is hearing strange noises, and you are here to solve the mystery.
Your primary goal is to assist Mickey Mouse in searching for the scary noises in the house. Use your detective skills and be brave enough to explore the haunted house. Can you manage to overcome the obstacles? Your friend will give you directions throughout the adventure.
How to Play
To move Mickey Mouse on each level, you should use the Left and Right arrow keys. Each time you need to switch between floors, you can use the stairs. Just press the SpaceBar to go upstairs or downstairs. While exploring each area, try to collect all the Pumpkins and Treasures that you may find. You might find useful items that might turn out to be quite helpful later.
During your journey, you may also discover several keys of various colors: yellow, blue, or green. Each of these keys will help you to unlock a specific door of the same color. To use a key, simply press the SpaceBar.
Notice that Mickey Mouse is afraid of the dark, so press the SpaceBar at times to turn the lights on. You will sometimes find a door behind the curtains. If so, use the stairs and discover the next floor. It is important to get the glow-worm and go past the ghosts. You must move fast if there is no light; otherwise, you might start again from the beginning.
You will have to defeat the ghosts, but remember not to spend too much time without light, get the Count's treasures, and find out what makes the noises. Don't interact with things that scare Mickey Mouse, you have to use the stairs when the monsters go in the opposite direction or use the glow-worm to gain immunity.
Do you have what it takes to go through the labyrinth and face the monsters together with Mickey Mouse?