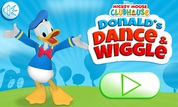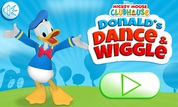 Play Now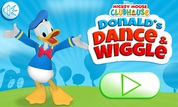 Unfortunately, Donald's Dance And Wiggle is not available on your device. Please try one of the related games below or visit our HTML5 category.
About Donald's Dance And Wiggle Game
It's time for a party at Mickey Mouse's Clubhouse in Donald's Dance and Wiggle game! Donald Duck is ready to show off his moves, but he needs your help to make sure they are flawless. Do you think you can join him and become the life of this party?
Your job is to coordinate Donald's killer moves and make sure he has loads of fun! However, one wrong move and he may start feeling sad. You should pay attention and see if you can make him the best dancer in the Clubhouse! Do you think you can manage it?
How to Play
Before getting into the dancefloor, you should learn the controls! For every level, you will have four buttons of different colors. Use your mouse to press them when they light up. Also, you should try to be fast and not waste too much time. Donald will miss his moves if you're too slow, and he gets sad when this happens!
There are two game modes that you can try out! The first one is called Party Time, and here you need to be quick and nail every dance move until you fill up the party meter. Once it's full, colorful balloons will start falling, and you need to pop them all out!
The second stage is called Free Play, where you can go crazy and jam out however you like. There is no meter that you need to pay attention to, and also, you will have a new button to try some other dance moves! You can go for as long as you want in this mode. There are no limits to this party!
Are you ready to start this party and help Donald Duck with his dance moves? Let's see if you have what it takes to make him the party's life and soul. The entire Clubhouse is waiting to see his killer dancing moves!