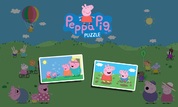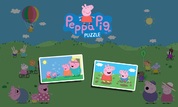 Play Now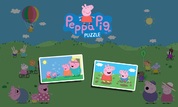 Unfortunately, Peppa Pig Puzzle is not available on your device. Please try one of the related games below or visit our HTML5 category.
About Peppa Pig Puzzle Game
Step into the picture-perfect world of the Peppa Pig Puzzle game, where Peppa and her family await you in jigsaw puzzle form! You can choose between two enchanting scenes to piece together: one with Peppa, her brother George, and their Mom and Dad, and another with Peppa and George splashing around in mud!
Imagine turning your favorite Peppa Pig moments into fun puzzles that you can solve. The game is like a moving picture book but with a twist! It's up to you to bring these scenes to life by piecing them together.
It's puzzle-solving time! Your mission is to unscramble the scattered puzzle pieces and fit them back together to recreate the magical moments from Peppa's life.
How to Play
Simply use your mouse to pick up and move the puzzle pieces. Want to spin a piece around? You can do that, too, with just a quick right-click!
When the game begins, you'll notice that all the puzzle pieces are jumbled up. No worries! You can use the small picture in the top-left corner as your guide to solving the puzzle.
Each piece you pick up can be rotated to fit just right. And when you join two pieces correctly, they'll magically glue together! That's how you know you've found a perfect match.
Now, here's the part that makes it extra fun! After you complete the puzzle, you'll see how long it took. Maybe you'll get faster each time you play!
What else you should know
If you're finding it a bit tough, don't fret! Try starting with the corners and edges. They are usually easier to find and fit. Also, keep an eye out for pieces with unique colors or shapes that stand out; they could be your key to solving the puzzle quicker!
Solving puzzles is more than just fun; it's like piecing together a story one moment at a time. In this captivating world, every click brings you closer to completing a picture-perfect tale with Peppa and her family. Ready to be the storyteller? Dive in and start solving now!