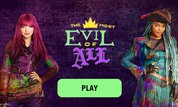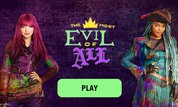 Play Now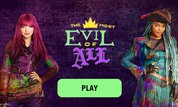 Unfortunately, The Most Evil of All is not available on your device. Please try one of the related games below or visit our HTML5 category.
About The Most Evil of All Game
Uma has always been the rival of Mal. And she is trying her best to make Mal miserable. Try to stop her in The Most Evil of All game and show her who the true leader of the devious Descendants is. Help Mal regain her pride and defeat Uma before it is too late.
There can only be one ruler over the evilest descendants. And that ruler cannot be Uma. She is despotic, and she will not rule the people towards success. This is why you need to help Mal win this game and defeat Uma for as many times as it is required. Do you think you have it in you?
It is easy to defeat her, once you get the hang of it. But you need patience and practice. Carefully pay attention to every move that Uma makes and try to block her way once and for all. What do you say? Do you feel prepared to face this challenge? Grab your magic wand and begin!
Show Uma who's the evilest
The way of winning is quite simple. Are you familiar with the classic game of X and O? It is similar to it, but this amazing game has a more precious target. And that is defeating Uma and making Mal the most powerful evildoer. All you need to do is to fill three squares in a row.
You will begin with an X. By simply clicking on a square, you can place it wherever you want. Be careful, though. Uma will do everything in her power to stop you and Mal from achieving your goals. You can place the three X-es horizontally, vertically, or diagonally.
Once a row is blocked, you can not fill, and you will have to rethink your strategy. Do not let Uma connect three squares in a row and win! That will be a real danger for Auradon.
Are you up to this challenge? Will you stop Uma from gaining control? I am sure that you can do whatever you want. Just be courageous and determined. Whenever you are ready, press that button and begin!