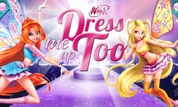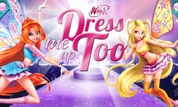 Play Now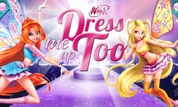 Unfortunately, Winx Club: Dress Me Up Too is not available on your device. Please try one of the related games below or visit our HTML5 category.
About Winx Club: Dress Me Up Too Game
The Winx have yet another fashion challenge for you in the Dress Me Up Too game! They want you to teach the new fairy in the gang some fashion sense. The new girl seems to be aloof when it comes to dressing up and having some style.
It is your time to show how good a fashionista you can be. There's no time to lose! Otherwise, the fashion police will surely come to fix things up before you manage to do it! So grab your stuff and start a total makeover.
How to Play
Well, fashion is the single area in life when you must be picky! All you have to do in this game is to pick everything, starting from the smallest details. To create your perfect model, you must be very focused!
Start by choosing the primary assets: skin color, eyes, mouth, hairstyle, etc. For each one of those, you can also modify the color to match your tastes. You can go for the classic shades or be a little extra and try out something crazy!
Now, for the serious business. Have a look over the clothes in the wardrobe and put them on to see what they look like. Browse through all the categories to get a good look. Do that until you think you have found something that's perfect.
Don't forget to personalize each item of clothing according to your preferences. Pick the favorite color and shade, then add a little sparkle to the clothes, and you are done!
Put on some shoes, and some accessories and the outfit is finally complete!
Other Games in this Series