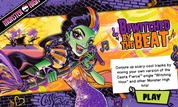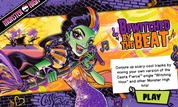 Play Now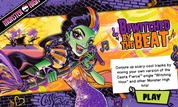 Unfortunately, Bewitched by the Beat is not available on your device. Please try one of the related games below or visit our HTML5 category.
About Bewitched by the Beat Game
If music is what keeps you alive, then the Bewitched by the Beat game is for you! Show everybody that you are the biggest fan. Create your own versions of your favorite Monster High tunes. Try endless combinations of instruments and voices and play around with the musical effects.
If you mistakingly thought before that monsters do not have an excellent ear for music, then, girl, weren't you wrong! If you still cannot believe, give this game a go. Choose a track between Freaky Fusion, Witching Hour, or We are Monster High, and then become a real DJ!
Be one with the beat!
Don't be shy! Come and try out all the sound effects the monsters have prepared for you. You have total control over everything that is happening.
First, choose which instruments you want to hear and which ones you don't want to hear at all. There's a plethora of them: lead voice, background vocals, guitar, drums, bass, and the list doesn't stop here!
For each instrument, make sure to try out all the different effects. They change the sound in funny ways, maybe you'll get inspired. More than that, there are also some exquisite buttons there. Once you press them, interesting monstery sounds come out. Surprise your future fans with your unusual style.
Change the volumes for each instrument to highlight what you find beautiful. Or maybe if you feel like that guitar should go through the roof, go ahead and push that lever up!
Keep an eye on the bar to see how much of the song is left. This way, you can bring everything to a harmonious end.