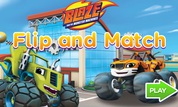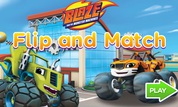 Play Now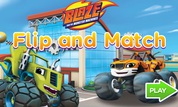 Unfortunately, Blaze: Flip and Match is not available on your device. Please try one of the related games below or visit our HTML5 category.
About Blaze: Flip and Match Game
Give the Blaze: Flip and Match game a try and show off your impressive memory! Blaze and the Monster Machines have a new mission to solve, and they need your help. All the cards are flipped upside down, and you have to find the missing pairs. Are you confident you can complete this challenge?
It's time to get started! Your job is to turn each card around and find the matching letters and pictures. However, this is no regular challenge because there are no identical cards. Just stay focused and think about your friends' names to find the correct answers!
How to Play
Before you begin the mission, you have to understand the basics. To flip the cards, use your mouse and tap them one by one. You can turn two items and see if they match. If you get it right, it's time to move on to the next pair!
The challenge will start with six cards, and you have to find all the matching pairs. However, as you move on to the following stages, more items will appear on the screen. Can you stay focused and remember where each card is? If so, you'll be able to solve the puzzle in no time!
This is no regular mission because you have to match the characters to the first letters of their names. Luckily for you, some of your favorite friends like Gabby, AJ, Blaze, or Pickle are underneath the cards. To solve the challenge, you can read their names out loud and remember the first sound you hear each time. As you think about the correct answers, you'll get to improve your memory and spelling!
Luckily there's no need to rush because you're not playing against a time limit! Just keep practicing and flipping the cards until you find all the matches. However, you can also replay the game as many times as needed and improve your memory. You surely won't get bored easily!
Now is your chance to test your memory and focus! Are you ready to join Blaze and his friends and find all the matching pairs of cards?