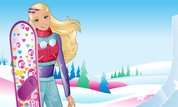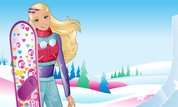 Play Now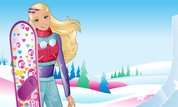 Unfortunately, Halfpipe Pixie is not available on your device. Please try one of the related games below or visit our HTML5 category.
About Halfpipe Pixie Game
Show off your snowboarding skills in the Halfpipe Pixie Game! Barbie and her friends decided to make the most of their winter break by spending it at her parents' Ski Resort. Barbie is known to be very passionate about extremely demanding winter sports, like snowboarding. When it comes to challenges, she is not one to back off easily, either. So she came up with a totally awesome idea: How about a snowboarding competition?
Hop on the racing track and prepare yourself for an adrenaline-filled experience! The stage is yours, so you can go from a simple warm-up stroll to performing creative, and quite demanding, tricks! Show us what you've got, and the crowd might just greet you with excited cheers and applause for your masterly performance! Would you dare to take a chance?
How to play the game
Use your skills and quick coordination to finish each round successfully! Once you're on the slide rack, hold the space-bar to accelerate. Release it, to make a jump, when the acceleration bar at the end of the slope has charged up. The higher it goes, the more momentum your bounce will have, so make sure only to let go when it has reached its peak.
Make sure to reposition yourself after the jump before you hit the ground once again. Otherwise, you might find yourself tumbling down the slope… Don't worry, though. The crowd will surely cheer you up as you try again!
There are two levels of difficulty in the game. In the Hard mode, it will be almost impossible for you to make that jump at the end of the slope. Once you are in mid-air, however, use the arrow keys to perform all kinds of tricks that will get you extra points. Vary the order of the arrows and come up with new moves! Strike a combo of three in one jump to increase your score!
Congratulations! You are rocking it!