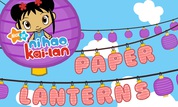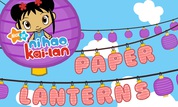 Play Now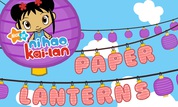 Unfortunately Paper Lanterns is not available on your device. Please try one of the related games below or visit our HTML5 category.
This Flash game is loaded using an emulator. If you notice any glitches(such as the game getting stuck or music/sound missing), click to play the original version with NuMuKi Browser for the best experience.
About Paper Lanterns Game
Enjoy a fun and creative past-time with Kai-Lan in the Paper Lanterns game! Are you ready to learn about a fun Chinese tradition? Making lanterns and lighting them up at night completes a wonderfully festive atmosphere! If you'd like to join in and express your creativity, grab a brush and start painting!
The game consists of an online crafting challenge. Kai-Lan will help you build a lantern out of colored paper then she'll give you the chance to decorate it using paint and stamps. Once you finish your creation, you can watch it light up with your pals from the Ni Hao, Kai-Lan series. How beautiful!
How to play the game
Everybody knows that arts and crafts can be a messy activity. However, this game allows you to have fun decorating your lantern without spreading paint and glue everywhere. The only tool you'll need to use is your mouse!
Start by choosing a type of paper for your lantern. You have 16 options at your disposal, including eight plain colors and eight patterns. Which one inspires you the most? Click on it to select it, and then move on to decorating!
To help your lantern stand out from the rest, you can customize it. Personalize your design with a drawing by using the paintbrushes at the top of the screen. Once you decide on your favorite color, click on the lantern and start moving the cursor to create your pattern.
What is more, you can use stamps to add more personality to your lantern! Some of them feature Kai-Lan's friends, such as Lulu. Alternatively, you can add a rainbow or a cherry blossom branch to complete your design. You'll even find Chinese writing that adds a traditional feel to any lantern!
After adding the finishing touches, it's time to witness the lantern ceremony! Many glowing fireflies will light up your creation, helping you admire it in all of its beauty. You can even print out a pattern and build a real paper lantern with the help of an adult!