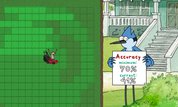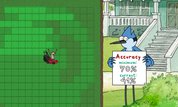 About Perfect Mowin Game
Mordecai and Rigby know for sure how to have the best fun ever. Today they started to have fun while they were working to cut the grass. If you want to be part of their amazing adventures and to have fun with your favorite characters from A Regular Show, then play the new Perfect Mowin game, and do not miss any seconds of the fun.
You will have one try to make the given pattern in the right way, otherwise, you lose the game, and you need to start the level again. To pass the levels, you have an accuracy that you need to reach the pattern. If you do not reach the minimum, the game will end. Mordecai will hold a sign, and show you how much you still have until you reach the minimum. Rigby will drive the grass mower machine, and when the pattern is over, he will stop. Make sure you reach the minimum before the patters end.
Each pattern has a model on it. You need to respect the model, and do cut the grass after it. Click and hold your mouse to mow the grass. When you release the mouse, Rigby will stop from mowing, but the mower machine will still work. On the upper side of your screen, you have your score. You will earn some points for each correct grass you mow, but at the same time, you will lose points for each wrong grass you mow. Keep an eye on the accuracy all the time, so you make sure you pass the levels. Good luck!
Game Details and Stats
Perfect Mowin is an excellent Regular Show game that you can play on NuMuKi for free. It has been added to our website on Saturday, November 03, 2018. The game has been played 160 times so far and has received a rating of 80 / 100 from a total of 44 user votes, 35 likes and 9 dislikes. Perfect Mowin is loaded in an iframe, so it would adequately render in all browsers, including the mobile devices. The game window resolution has been optimized for best visual performance, having the width of 700px and the height of 400px. If you enjoy playing Perfect Mowin, you might be excited finding out that there are 19 more Regular Show games you can try! The most popular is Fist Punch and the most recently added is Just A Regular Game
You may also like these games