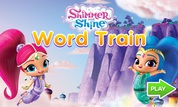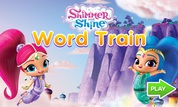 Play Now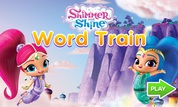 Unfortunately, Shimmer and Shine: Word Train is not available on your device. Please try one of the related games below or visit our HTML5 category.
About Shimmer and Shine: Word Train Game
Hop on the train and get ready to learn some new words in the Shimmer and Shine: Word Train game! The two genies have prepared a new mission for you today. Are you prepared to join them and start playing with words? Now is your chance to meet some of your favorite friends and put your mind to the test!
Let's begin the challenge and solve the puzzle! Your goal is to use the scrambled words to form complete phrases. However, you can also look at the pictures on the screen if you want some clues. Are you confident you can complete this mission?
How to Play
First off, you have to understand the basics. The only tool you'll need for this challenge is your mouse. Click on a word to pick it up, then drag and drop it in a train wagon. If you get it right, the item will stay there, and you can look for the next part.
Your goal here is to create sentences using the words on the screen. To complete the puzzle, you must put all the pieces in the correct order until you get the right answer. This is a great way to improve your grammar and vocabulary! Aren't you excited to give it a try?
Shimmer and Shine have prepared pictures containing some of your favorite characters. Throughout the challenge, you will come across Leah, Zac, Nahal, and the rest of the squad. Just stick to a strategy, and try to find the first word of each sentence. After that, discovering the rest will be a breeze!
Don't worry if you make mistakes at first! You can keep trying until each sentence is complete. As you keep playing longer, you'll notice your skills start improving. It's so fun learning together with Shimmer and Shine!
Well, what are you waiting for? It's time to put the words in the correct order and complete the puzzle! Can you uncover each sentence and improve your grammar with Shimmer and Shine?