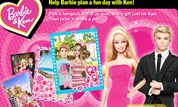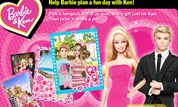 Play Now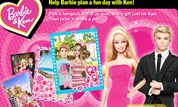 Unfortunately, Barbie and Ken: Dating Game is not available on your device. Please try one of the related games below or visit our HTML5 category.
About Barbie and Ken: Dating Game Game
Every loving couple needs a beautiful photo, and you will get to make one for one of the most famous pairs in the Barbie and Ken: Dating Game! The two lovebirds need a perfect image, and there is a lot of work. So here is where you come in. Can you plan the best picture for Barbie and Ken?
There are many steps for a great image. Your job is to set up a scene and take care of their outfits and accessories. Also, write some messages to use the photo as a holiday card. Now, let's get you started!
How to Play
Before you start working on the photo, you should know the controls! Luckily, you only need your mouse! Use your Left Click to go through all the things you can add to Barbie's picture and select them. With controls this easy, you will only have to focus on creating the best couple photo the lovebirds have ever seen.
There are a few steps until your work is over. The first one is, of course, creating the picture. Try to pick a scene for Barbie and Ken! They can be at the beach, a concert, a cute picnic, and many other locations. Also, you choose the right outfits for the occasion and some gifts for Barbie to hold. For example, a box of chocolates or some beautiful flowers. After you make your choices, you can complete the photo with a cute frame!
The next step is to write something cute on the photo! No holiday card would be complete without a message. Anything would be perfect if it comes from the heart, so don't overthink it. You can also pick the color of the writing and font.
Once your card is over, review it to see if you want to make any changes, and when you're happy with your creation, the last thing to do is to send it to your friends!
Are you ready to join Ken and Barbie and create the perfect couple photograph? If so, let's hurry up and get to work!