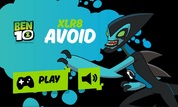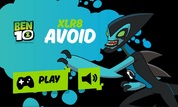 Play Now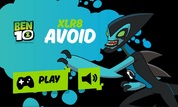 Unfortunately, XLR8 Avoid is not available on your device. Please try one of the related games below or visit our HTML5 category.
About XLR8 Avoid Game
Play the XLR8 Avoid game and get ready to join XLR8, a super speedy hero, on an incredible adventure down the desert roads. But be careful because there are tricky cacti waiting to get in your way!
In this game, your goal is to help XLR8 run as far as possible without bumping into any cacti. Can you imagine how prickly that would be? Keep your eyes open and dodge those cacti like a pro to achieve the highest score. Let's see how far you can run!
How to Play
To control XLR8 on a computer, all you need is your keyboard:
- Up/Down arrow keys: Just press these to move XLR8 between different lanes on the road.
It's like hopping from one lane to another, avoiding those pesky cacti along the way. You're so quick, they won't stand a chance!
If you're playing on a touchscreen device like a tablet or smartphone, simply swipe your finger up and down on the screen to move XLR8 between lanes. It might take a bit of practice, but you'll soon be zooming through the desert, showing those cacti who's boss!
Remember, the game starts after a countdown of 3 seconds, so get ready to dash! Each time you play, try to beat your highest score by running as far as possible without crashing into any cacti. The more distance you cover, the better your score will be. Are you ready to become a champion XLR8 runner?
Are you ready to enjoy this thrilling adventure and show off your super-fast skills? Have a blast, little speedster!