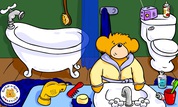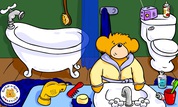 Play Now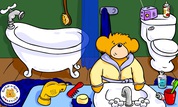 Unfortunately, Fluffed & Fabulous is not available on your device. Please try one of the related games below or visit our HTML5 category.
About Fluffed & Fabulous Game
Bearemy needs your help to get ready for the day in the Fluffed & Fabulous game! Everybody has a mourning routine, from young kids to adults, and even teddy bears. Are you curious about what the famous Bearemy does every day? Help him go through all the steps of his ritual and prepare for another successful day!
The game allows you to visit Bearemy's bathroom and decide the order and timing of his actions. Take a close look at all the objects, then decide what you want to do next. Can you complete all nine tasks on our hero's morning routine? There's only one way to find out!
How to Play
What makes this game so awesome is that you can interact with any of the objects. It's so easy! All you have to do is click! Now, wait for our adorable protagonist to finish the task, then think of what you want to make him do next. It's easier than you thought!
The secret to success in this game is to remember to do everything. You'll have to bathe Bearemy, take care of his oral hygiene, brush his hair, and much more. Therefore, you'll effortlessly learn about daily activities and repeat the names of the most common ones. Learning and playing in the bathroom has never been more fun!
Be prepared to giggle! Some of the activities or the way our hero does them can be quite funny. For instance, you can play the radio to entertain the protagonist or make him use the toilet! However, we'll have to give Bearemy some privacy for that!
To conclude, even the laziest kid can get excited about his mourning routine by playing this game! Bearemy will teach you that every step is important by showing you a checklist of all his morning tasks. If you can complete all nine tasks, you'll surely master your own morning routine. Keep practicing and see how good you can become!