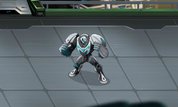 Click "Allow" to play Ultralinks Attack!
Click "Always allow" to play Ultralinks Attack!
There are some games on NuMuKi which require Flash. Enable it above.
Allow Flash pop-up not showing up? Click here
Many browser games, especially the older ones, are developed using Flash. Each game on our website is thoroughly checked before publishing so you can rest assured that playing Flash Games on NuMuKi is absolutely safe. For any questions or issues, please Contact Us.
First, you need to wait for the page loading to complete to see the Allow button.
NuMuKi
About Ultralinks Attack Game
In a world where the Ultralinks want to have control over everything, a superhero has to stop them and make sure these things will never happen. Lately, more and more Ultralinks appeared and caused trouble everywhere they went, so Max Steel decided not to give them the opportunity to destroy everything good, and he went after them in the Ultralinks Attack game. This mission is not a simple one. The Ultralinks become stronger than ever, and Max needs your help to defeat them. Once you are in the battlefield, Use the arrow keys on your keyboard to move from left to right and from up to down. Pressing the Spacebar, you will be able to jump over obstacles and to avoid the Ultralinks shoots. The Shift key will change you into the turbo modes, so you can be stronger and destroy all the enemies. To attack the Ultralinks, you will need to use the A, S and D keys. The A key will make you use a light fist attack. It can be useful, but when you have to deal with many Ultralinks at once, it will not help you too much. The S key will help you use a strong attack with your foot. The Ultralinks will lose more life if you use the powerful attack. The D key will make you equip the turbo weapon. Once one of the Ultralinks is dead, collect the blue scouts that appear. On the left upper side of your screen, you can see the percentage of life that you have. When it reaches zero, you will lose the game, and you need to start it again. Do not let this thing to happen. Be brave and do your best to protect the world with Max.
Game Details and Stats
Ultralinks Attack is an excellent Max Steel game that you can play on NuMuKi for free. It has been added to our website on Thursday, September 27, 2018. The game has been played 186 times so far and has received a rating of 81 / 100 from a total of 48 user votes, 39 likes and 9 dislikes. Ultralinks Attack is loaded in an iframe, so it would adequately render in all browsers, including the mobile devices. The game window resolution has been optimized for best visual performance, having the width of 950px and the height of 550px. If you enjoy playing Ultralinks Attack, you might be excited finding out that there are 6 more Max Steel games you can try! The most popular is Turbo Run and the most recently added is Turbo Tactics
You may also like these games