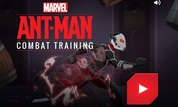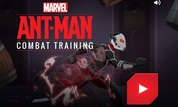 Play Now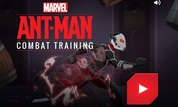 Unfortunately, Ant-Man: Combat Training is not available on your device. Please try one of the related games below or visit our HTML5 category.
About Ant-Man: Combat Training Game
You'll love the Ant-Man: Combat Training game if you have a taste for Marvel adventures! Now you have the opportunity to join your favorite heroes for an intense session of training. Don't be fooled by the fact that this isn't a real fight! It will be extremely tough to get past all the obstacles. Can you make it?
Naturally, playing the role of Ant-Man will require some special skills! His ability to change sizes can be tough to control and to use properly. However, if you are swift and smart, you'll be able to get past seemingly impossible obstacles. Get ready to play and have a blast with your favorite Marvel heroes!
The game consists of a single run through a very intricate obstacle course. It will require your full attention and agility to complete. How far can you go? Can you reach the high score list? There's only one way to find out!
How to Play
Let's play! To gest obstacles, all you need to do is press the Space Bar to jump. However, some of them are too big or too small for Ant-Man to surpass. This is where his shapeshifting powers come in!
You will come across two types of vials: red and blue. The former will make you shrink, while the latter will make you bigger. Isn't that exciting? To activate either of those features, press the Down or the Up arrow at the right moment. For instance, whenever you notice a wall is coming up, press the Down arrow to shrink down and sneak in the small tunnel at the bottom. Isn't this thrilling?
Besides traveling as far as you can, there's another way to score points in this game. Keep an eye out for the targets and make sure you hit all of them to gain a good score! At the end of each level, you will receive a grade based on the length you have managed to travel and the number of targets you've struck in your journey. How long does it take for you to reach the leaderboard?