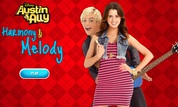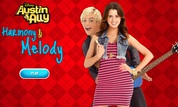 Play Now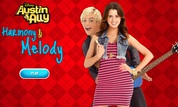 Unfortunately, Harmony & Melody is not available on your device. Please try one of the related games below or visit our HTML5 category.
About Harmony & Melody Game
Don't miss out on the Austin & Ally: Harmony & Melody game if you are a huge music fan! This dynamic duo is unmatched when it comes to composing songs and performing them. However, this famous Disney couple seems to be at a standstill for now. They can't find material for their new album. Can you give them a helping hand in this race against time?
If you decide to get involved in this upbeat challenge, you'll be randomly assigned a song. Some of them are more difficult than others! Now all that's left to do is record both Austin and Ally's parts in the melody. As you might know by now, the brunette singer is responsible for the vocals, while the blonde rockstar plays guitar. Jump in and help them jam to songs such as "Open your mind" and "Spread your wings"!
How to Play
Luckily, you don't need to have any musical talent to enjoy the music in this game! Besides, you don't even need to own any expensive studio equipment. The only tool you'll need is your mouse. Click and drag anywhere on the screen to collect the musical notes or guitar picks. Can you gather enough to achieve the goal before the time runs out? Give it a try to find out!
Watch out for red notes or picks! If you pick up one of them by accident, your score will suffer greatly. Yikes! As a result, you'll need to prove that you are both fast and precise when it comes to picking up the necessary items. Don't lose the points you have worked so far to earn!
Have you noticed all the golden items on the screen? As you might have discovered by now, they represent power-ups. Once you pick up one of them, you'll have the chance to take advantage of their power. For instance, the freeze function will stop everything on the screen for a few seconds, allowing you to collect the items you need. There is also a magnet power that will let you gather all the notes on screen in just a couple of seconds. How cool!
Test your agility and precision while enjoying some exceptional tunes! Austin and Ally are already in the studio, waiting for you to come and lend them a helping hand. The more you practice, the better your combos and percentages will get. Find out how well you did and earn Austin and Ally's praise! You'll have so much fun recording the new album by their side!