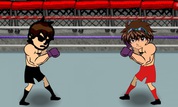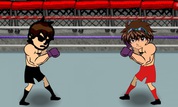 Play Now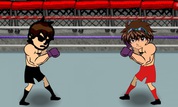 Unfortunately, Ben 10 Vs. Bakugan Fight is not available on your device. Please try one of the related games below or visit our HTML5 category.
About Ben 10 Vs. Bakugan Fight Game
Take part in the biggest boxing event in the Ben 10 Vs. Bakugan Fight game! Can you help Ben Tennyson defeat Dan Kuso in a fair fight? However, your opponent is well trained, so you should not take him lightly! Will you win the rounds and become the champion?
Your job is to hit hard and have no mercy! Your only way out is to bring Dan Kuso to the ground. Keep your eyes on the opponent, and don't back down without a fight. Do you think you can get through all the levels and win every match?
How to Play
Becoming a good boxer can be tricky, so pay attention! You can use the Arrow keys to move around the ring. Next, get close and use the B key to throw a jab, N for an uppercut, and the M key to hit hard and send your foe to the ground! At the same time, you can use the Spacebar to defend yourself from the incoming punches.
There is nothing too complicated left. You can choose how difficult you want the fight to be, depending on your experience. A pro tip is to begin with the easiest if it's your first time. If you want to skip to the hardest part, you can! Just know that you've been warned.
Lastly, see how many rounds you can win! After a first success, you can keep going. It will get a bit harder with every new round, so you should try to adapt quickly. Everyone is curious to see what you got, champ!
Are you ready to enter the ring and see if you can help Ben 10 defeat Dan Kuso? Your champion is counting on you, so you should not let him down. Will you be able to win all the rounds?