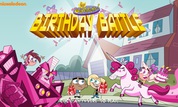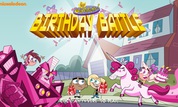 Play Now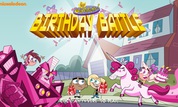 Unfortunately Birthday Battle is not available on your device. Please try one of the related games below or visit our HTML5 category.
About Birthday Battle Game
Take part in the celebratory contest between Chloe and Timmy Turner in the Birthday Battle game! Every year, the story repeats: Chloe holds her birthday party the same day Timmy does! Now all the kids at school have to choose their favorite and attend their party! But Timmy won't go down so quickly! He will show Chloe he has more friends, even by using magic!
Your job in this game is to help Timmy attract all the kids to his party in various ways and ultimately have more guests than Chloe! Show off your best party favors and throw the best birthday bash in the neighborhood! It's all about fun! It's a little bit about winning too!
How to play the game
You only need your trusty mouse to start wishing and win the birthday battle! First, click on Wanda or Cosmo to get items that will influence the children's decisions! Once you've decided upon one, click and drag it onto the map! The kids will get swayed right away and might interact with the objects!
You can use different objects to influence kids to come to Timmy's birthday party! Some of them might convince them, such as candy or cake! Others might stun them and give them more time to think, like the nacho cheese! You can also scare them off with a violent anti-fairy! Use them to your advantage and get all the guests on your side!
There are three game modes you can try out! Here they are:
- Arcade: Reach twenty-five guests before Chloe does!
- Countdown: Get as many kids as possible to come to Timmy's party in ninety seconds!
- Unicorn Jump: Reach high in the sky by jumping from cloud to cloud, collecting stars, and avoiding the thorns.
Now that you know all the tricks to get kids to come to Timmy's party, will you help him throw the best birthday bash Dimmsdale has ever seen? Let's get the party started!