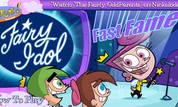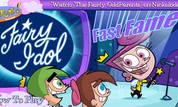 Play Now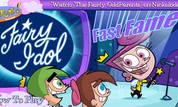 Unfortunately, Fairy Idol Fast Fame is not available on your device. Please try one of the related games below or visit our HTML5 category.
About Fairy Idol Fast Fame Game
Help Wanda fulfill her dream and become a famous singer in the Fairy Idol Fast Fame game! The lovely fairy Wanda has finally gathered her courage and decided to sing in the Fairy Idol contest! Timmy and Cosmo are there to support her! However, she forgot her wand somewhere in the studio and cannot sing without it!
Your main goal in this game is to navigate through the studio, avoid traps and other enemies, and find Wanda's treasured wand! All the trouble is worth it as long as the fairy World can hear Wanda sing! Will you be able to find the magic tool in time?
How to Play
You will only need your trusty mouse to find Wanda's magic tool! First, you will need to choose between the Normal and Hard difficulties. Then, try to discover all the rope traps and click on them to disarm them. You will also have to click the arrows to choose a path for Timmy through the audience!
If you don't disarm the traps, Cosmo will activate them and disrupt the whole performance. Whenever you miss, you will lose one life! You only have three chances to bring Wanda's wand back and keep Cosmo safe!
Jorgen and a security guard will sit in the audience. Make sure you don't run into any of them, or they will stop you in your tracks. In the Hard mode, Jorgen will jog around the studio, so time your moves right and press the Spacebar to make him move faster.
Are you ready to help the fairy Oddparent find her wand and perform in front of all the fairies? It's time for Wanda to enchant everyone with her voice!