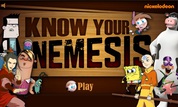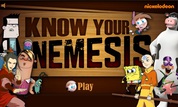 Play Now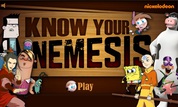 Unfortunately, Know Your Nemesis is not available on your device. Please try one of the related games below or visit our HTML5 category.
About Know Your Nemesis Game
Test your knowledge and identify the sworn enemy of all your favorite Nickelodeon stars in the Know Your Nemesis game! You cannot miss this fun activity if you're a big fan of all the Nickelodeon shows! From SpongeBob SquarePants to Avatar and The Fairly OddParents, you can match each main character to the ones that despise them! Can you make the correct matches?
Your only task in this game is to shoot the canon in the right direction, matching the main character to the corner where their enemy sits! If you love challenges and games such as Pinball or bubble shooters are some of your favorites, you will enjoy this Nickelodeon-themed combination!
How to Play
This game only requires your mouse and a bit of aiming skills. The canon will start rotating when the level begins. Each villain gets a corner hole, and you must match it with the right ball! Just click to shoot in the direction of the enemy and make the ball go through the hole to receive points!
Remember that each character must go to the matching villain, or you will lose one of your lives! For example, SpongeBob will have to go to Plankton's corner while Aang will go toward Azula's! You can only make three such mistakes before the game is over!
As you advance, the levels will increase in difficulty! You will get objects that move around to block your shots, or the canon will start spinning faster! Try to get extra points by hitting the holes in one move! Otherwise, your ball can fly around and end up in the wrong corners!
Are you ready to prove your knowledge of Nickelodeon shows and find the perfect match? Time to let the canon loose!