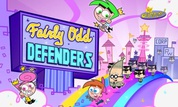 Play Now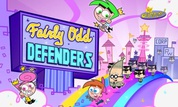 Unfortunately Fairly Odd Defenders is not available on your device. Please try one of the related games instead or visit our HTML5 category.
About Fairly Odd Defenders Game
Oh no! The pixies are attacking Timmy, and you have to do your best to protect him in the Fairly Odd Defenders game! Cosmo and Wanda have to keep the boy safe, and they need your help! Do you have what it takes to complete their mission?
This is a strategy-based game, so you have to do your best to defeat your enemies. Fire at the fairies, and pay attention to their colors! Switch between the two Fairly OddParents, and make sure Timmy's shield remains active!
How to play the game
To begin with, you have to understand the basics! All you're going to need for this challenge is a keyboard and some skill. You can use the Left and Right Arrow keys to move. When it's time for action, you have to press the Up Arrow to switch between Cosmo and Wanda and the Spacebar to attack.
The OddParents might be speedy fairies, but their task is not easy. The pixies keep coming towards you in waves, and you have to get rid of them all! If the boy's Fairy Field is broken, you'll lose the challenge and have to restart from the beginning. Just make sure not to let more than 3 villains touch Timmy, or it's game over!
If you're having a rough time, don't worry! Baby Poof will sometimes show up and help you defeat your enemies. Just aim towards him, and he will take down all pixies of the same color. The more you advance, the more villains will come rushing towards you, so do your best to avoid them!
What do you say? Cosmo and Wanda need your help to defend Timmy! Join the cast of Fairly OddParents and show off your strategy skills in this fun challenge!
If you enjoy playing Fairly Odd Defenders, you might be excited to find out that there are 44 more The Fairly OddParents games you can try! The most popular is Super Brawl 3: Good Vs. Evil, and the most recently added is Jingle Brawl