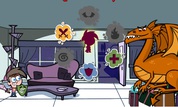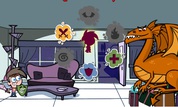 Play Now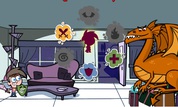 Unfortunately, Dragon Drop is not available on your device. Please try one of the related games below or visit our HTML5 category.
About Dragon Drop Game
Have you ever wondered what a knight in shining armor goes through? If so, in the Dragon Drop game, Timmy Turner and his fairies will show you exactly what's that life about by trying to defeat an ancient dragon. Do you think you can lend them a helping hand and take down the beast?
Your job is to help Timmy, Wanda, and Cosmo plan their moves to inflict the most damage as quickly as possible. However, your defense is a big part of your victory, so do not neglect it. Are you ready to jump into the fight and face the dragon?
How to Play
First, you need to go through the controls! It's simple to use your abilities. The only thing you have to do is to use your mouse and click on the move you want to perform. However, you should plan out each one carefully, so you always make the best decision! If not, the dragon might win the fight with a couple of moves.
Timmy has six abilities he can use:
- Attack;
- Defense;
- Heal;
- Fire Breath;
- Wing Attack;
- Hypnotize;
Cosmo will be his shield and Wanda his trusty sword, so the first abilities available are attacking and defending. However, if you win and go through the levels, you will end up with the whole arsenal in no time!
Some abilities have a countdown after using them, so try to use them only when necessary. Also, it's time for the dragon's attack after you make your move! He might even defend himself if your attacks are too much for him. However, there is no doubt he will grow stronger as you advance, so you should adapt quickly!
Are you ready to see if you can slay the dragon? Timmy, Cosmo, and Wanda are waiting for you to see if they can be a match for the beast with you on their side!