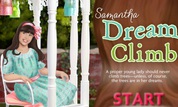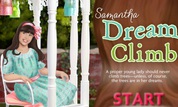 Play Now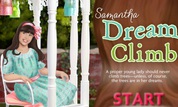 Unfortunately, Samantha Dream Climb is not available on your device. Please try one of the related games below or visit our HTML5 category.
About Samantha Dream Climb Game
Samantha may be a proper young lady, but she dreams of having fun and playing outside like other kids! Will you help make her wish come true in the Samantha Dream Climb game? Your friend enjoys fun activities like going up the trees in her yard, but she's not supposed to do this. Now is your chance to lend her a hand and give life to her fantasy!
How high can you keep climbing? The tree is very tall and contains many surprises such as apples, eggs, or living animals! Continue to go up by jumping from one branch to another, and see how far you can go. Just remember to watch out for any birds or squirrels, because they can be very dangerous sometimes!
How to Play
Climbing a tree might be a tough job for a lady, but you just have to understand the basics! To move in each direction, you need to press the Left and Right arrows on your keyboard. When you want to jump higher, tap on the Space bar or Up key, then duck by holding the Down arrow. Remember the controls, and Samantha will be safe at all times!
Your main objective is to keep climbing as high as possible. It's the girl's dream to reach the top of the tree, and you must make it come true! Just keep in mind that you only have three lives. If you hit too many obstacles, you might end up falling and have to restart the mission!
Watch out! If you run into any birds or leaves, you can lose a life. It's also important to avoid the squirrels because they can drop acorns towards you. This is why you must not climb aimlessly and instead pay attention in each direction!
Do you want to increase your score? If so, do your best to collect the apples, and you can earn some bonus points. It's also good to keep an eye out for any bird eggs. If you can return them to their nests, you will gain a special ability that will help you keep climbing!
Well, are you ready to make Samantha's dream come true? Go up the tree together and see how high you can reach!