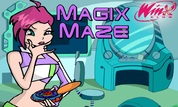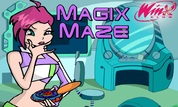 Play Now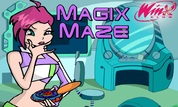 Unfortunately, Magix Maze is not available on your device. Please try one of the related games below or visit our HTML5 category.
About Magix Maze Game
In the Magix Maze game, Alfea's most treasured secrets are at risk! Cloud Tower's notorious Witches - Icy, Darcy, and Stormy - have hatched a plan to seize Alfea's Magical Processing Unit (WPU). This isn't just any device; it guards the age-old Fairy Secrets, and now it faces the threat of a Dark Magic Virus.
You're the last line of defense! As the guardian of these secrets, you'll need to steer Tecna's Bug Scanner skillfully through a maze to safeguard the WPU. Beware, if the Witches' Virus reaches it before you, the secrets will be lost forever!
How to Play
Maneuvering through the maze is a breeze! Use the arrow keys to steer the Bug Scanner through the maze, leading it closer to Alfea's Magical Processing Unit, the WPU.
Your journey is filled with challenges! The Dark Magic Virus isn't just any foe. It has the power to mutate, making your maze adventure twistier and trickier as you go. Every mutation of the virus makes navigating the maze a tad more challenging.
But don't lose hope! Scattered around the maze are special Power Nodes. By reaching these, you can zap the Witches Virus right back to the starting line, buying you time to shield the Fairy Secrets.
This is a race against time and cunning. Can you outsmart the Witches and prevent the Dark Magic Virus from reaching the WPU?
With treasured secrets on the line and a maze that constantly changes, every level is a new adventure. Are you ready to protect Alfea's legacy? Let the chase begin!