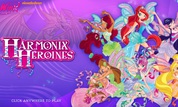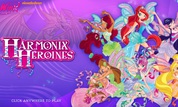 Play Now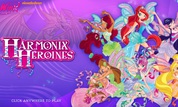 Unfortunately, Harmonix Heroines is not available on your device. Please try one of the related games below or visit our HTML5 category.
About Harmonix Heroines Game
The Winx have to defend Alfea from the evil Ice-Dragons in the Harmonix Heroines game! Everyone is in danger, and the fairies need your help to save the day. A great battle awaits! Will you be able to match the power of the dragons and defend the land?
Your role is to help the Winx girls by putting your rhythm and reflexes to the test! The Ice-Dragons are vicious and use all of their power through attack orbs. The whole Alfea is at risk, and the girls need more forces to get rid of the ancient beasts! Can you join the witches and defeat the attackers?
How to Play
Let's hurry and save Alfea! You only need to use your mouse or Arrow keys to beat the evil dragons. Attack orbs will travel towards the Winx as the music plays. To attack, you can use your mouse to click on the witch's matching button when the attacks reach the chambers in front of the girls. Or use the Arrow keys displayed on the orb!
You will have to rely a lot on your reflexes for this challenge! To do maximum damage to your enemies, you should try and have perfect timing when attacking. The more perfect scores, the Winx will build up power for their special attack. And it will cause lots of trouble for the Ice-Dragons.
The more damage you inflict on them, the quicker you will save the land of Alfea! But if you miss, the Winx health meter will decrease, and if this goes to zero, it's game over. Try and pay maximum attention, be a master of your rhythm and keep your reflexes sharp!
Are you ready to start the challenge and see how many Ice-Dragons you can defeat? Then let's get started and see what you got! The Winx fairies and the rest of the Alfea are counting on you. We can't let them down!