Why did the chicken cross the road? This age-old question and popular joke seems to have taken a new meaning. In fact, it seems like everybody is busy helping the bird get to the other side. They might be at home in front of the PC or out in public using their phones – people are desperate to help the chicken in its travels. Does it still sound crazy to you? Don't worry! We're talking about a popular video game that has taken the world by storm! You can't miss out on this global phenomenon, as well as other games like Crossy Road!
However crazy it might sound, it's the truth: everybody loves Crossy Road! If you have tried this addictive challenge already, you probably don't need any further explanations. However, if you are new to this challenge or want to learn more, read on! You'll find out why you must join the global trend, as well as some cool alternatives to the beloved Crossy Road!
The Crossy Road craze
Who would have guessed that a simple game with vintage graphics could be so successful? Ever since Hipster Whale has released Crossy Road in 2014, critics and players alike fell in love. Did you know that it almost received the Game of the Year award in Australia? It's quite an impressive feat for a game developed in only 12 weeks.
Let's find out what it's all about! Your objective is simple: cross a series of endless roads, highways, and try to get as far as possible without dying. Using the arrow keys or a few swipes, the player can easily control the protagonist.
Despite the simple premise, this isn't an easy game! You'll need to time your moves perfectly to get past all the obstacles and collect coins. What is more, every move you make scores only a single point in your favor. Therefore, setting a new record is an impressive and time-consuming feat.
But why is everybody so addicted to an endless game? It's all about an exciting feature that the creators have implemented to keep you playing. Of course, we're talking about the unlockable characters! The further you go, the more coins you can collect. Exchange them to customize your chicken by giving him a costume or turning him into a different animal altogether! For instance, the Disney Crossy Road version of the game features over 700 beloved characters. Incredible! Sadly, this version of the game was shut down in 2020.
When it comes to availability, you can get the Crossy Road app on your phone from the official website. If you want to play the browser version instead, you can find it right here.
Anyway, in this article, we'll list a couple of similar fun games that resemble this addictive challenge!
Try these alternatives for even more fun!
Are you bored of the classic Crossy Road challenge? After a while, any game can become monotonous. Luckily, we have many alternatives that will satisfy your craving for cross-the-road challenges. Some of them have a similar design and nearly identical mechanics to the famous Crossy Road. However, other challenges will have features that you might like even better.
For instance, some of them have breath-taking graphics with plenty of cool colors. Others will allow you to reunite with old and dear friends from beloved animated series. Are you ready to experience some of the top games that resemble Crossy Road?
Before you dive in, you should know that you can play all these games on our website for free. Isn't that great news? Access any of the games directly from your browser, no matter which one you use.
While most of the games are available in any browser, including mobile devices, our list also includes some great vintage games developed with Flash. While the Adobe Flash Player plugin is no longer supported, you can still play the games using our custom NuMuKi Browser. It's that easy and completely free! Let's begin!
Believe it or not, but this game is the most like Crossy Road! If you are a fan of the vintage, three-dimensional arcade-style, you must try this challenge! You will have to help Barbie get past many highways, roads, and rivers.
Don't be fooled by the title, as this is not just a girly game! All the obstacles move very quickly! Besides, just like the original Crossy Road, each round you play is randomly generated by a computer. Therefore, you'll be able to have endless fun!
Try a more adventurous alternative to Crossy Road! Are you in the mood for a journey on a pirate ship? Join Shaggy and Scooby-Doo from Mystery Inc.! This legendary duo is stuck on a terrifying ship filled with menacing ghosts. It's up to you to reunite this famous duo!
Can you avoid all the flying swords, cannonballs, and specters? You'll need to bravely jump overboard and hop from raft to raft to get back to Shaggy!
Do you have a taste for spooky adventures? Join Shaggy and Scooby for one more exciting and funny journey in a creepy ghost town! Can you imagine running around in a mine filled with zombies and skeletons? Now you have the chance to see how far you can go!
Avoid the mining carts and monsters as you try to find Scooby's young friends. This rescue mission will surely raise your adrenaline levels and satisfy your craving for cross-the-road challenges!
Are you ready to try a different kind of challenge? Most cross-the-road games require you to avoid vehicles at all costs. Can you believe that now you actually have to jump from one car to another? Gather your courage and head out on an adventure with Apple, Onion, and their pet cat. Help the brave fluffy friend get from one side of the road to the other by leaping on the cars passing by! It will be a test of timing!
Do you ever feel like the supermarket could be the location of a thrilling race? Then don't miss out on this challenge, featuring Apple and Onion, the Cartoon Network stars! You'll have the chance to guide the two heroes through a maze of aisles, produce, and angry shoppers, pushing carts. Can you make your way to Miss Patty, the cashier? It'll be a tough challenge, even though it might seem silly!
Fun is just a hop away! If you have ever wanted to live the life of a frog, then this is the game for you. An adorable little frog is waiting for your help! Can you cross the highway filled with plenty of fast cars? If so, you'll have to find a way past the river as well. The key is to befriend the turtles, learn their movement patterns, then climb on top of them to get to the other side. Oh, and don't forget to catch a few flies on the way!
Suppose you are looking for a game like Crossy Road with a fun twist. In that case, you should definitely give this one a try! Can you think of a more uplifting company than Timon and Pumbaa? The two friends from Lion King can put a smile on your face no matter how grumpy you are! 
However, this time they are the ones in need of help. Guide them through the wilderness! They'll need to avoid scorpions, snakes, rhinos, and many other dangerous critters. It's up to you to use your speed and coordination to help them!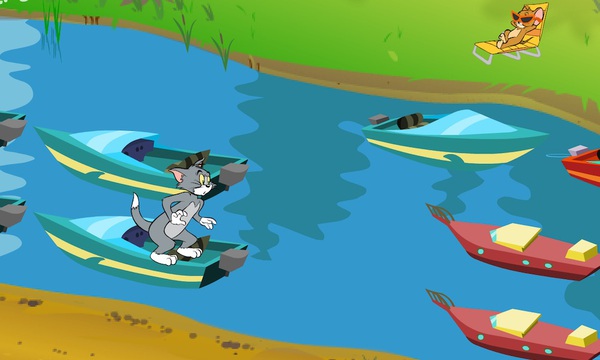 Comedy, classical music, and the charm of beloved vintage animations…If these things sound attractive to you, then you must give this Crossy Road alternative a try! Would you like to join Tom and Jerry in one of their epic chases? This time, you'll have to help the famous grey cat avoid speeding cars to get to the tiny brown mouse.
But wait, that's not all! You'll also have to jump from boat to boat to cross a river. You know that cats hate water, so don't let Tom fall in! Take part in this epic cat and mouse chase, and have a blast!
If you are looking for a quirky alternative to other cross-the-road challenges, then this is the game for you! Join the unusual protagonists of the Monster High series and follow them to the bathroom! Lagoona Blue, the sea monster, has caught all the frogs from the science lab. Now she needs your help to release them!
Keep in mind that Monster High features many dangerous critters and obstacles! Can you avoid them and guide all the adorable froggies to a safe place? There's only one way to find out!
Are you ready to try out an unconventional cross-the-road challenge? To begin with, you'll enjoy the company of some of the most stylish and charismatic girls in the world of animation, the Bratz girls. Besides the glam characters with sparkly wings, you'll also need to get used to new mechanics in this challenge. Can you jump from flower to flower and make a path to the other side of the screen?
You'll need to watch out for the flies and bumblebees! They'll fly around the screen, so avoid them at all costs if you want to continue your adventure. As you can see, this game is a little more complex than others in this article. Can you learn the new rules and keep up with this challenge? If so, the magical world of fairies will welcome you with open arms!
This entry on our list is a delight for young and old alike. Why? Well, it features one of the most beloved animated characters in the world, Bugs Bunny. Are you ready to join him on a thrilling race to collect his favorite snack, carrots? However, you should know that there are plenty of swift and dangerous obstacles in this game. Are you ready to face whistling trains, winding rivers, moles, and even the menacing Tazmanian Devil?
The best part about this game is that each level is generated automatically, just like Crossy Road. You'll never know what to expect when you start a run! Do your best to pick up as many carrots as you can in these unique circumstances! It won't be easy, but it will be fun!
Why we love games like Crossy Road
What keeps us glued to the screen for many hours while playing these games? It must be the very repetitive nature of the challenge and that unique feeling of satisfaction. You'll feel a thrill every time you manage to defeat your previous record or get a new character. Therefore, it's no wonder that you'll want to keep going! Beware, these games are addictive!
From now on, you'll never have a dull moment ever again! Whenever you feel defeated by boredom, check out this list and return to an old favorite. Maybe you'll even find a new challenge that excites you! Make sure you return to this article often, as we'll update it with more awesome games like Crossy Road!