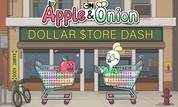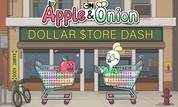 Play Now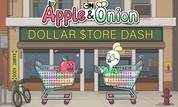 Unfortunately, Dollar Store Dash is not available on your device. Please try one of the related games below or visit our HTML5 category.
About Dollar Store Dash Game
Join Apple and Onion on their shopping spree in the Dollar Store Dash game! Today, it seems like everyone in town is out shopping. Just trying to get past all those people feels like a battleground!
Your job is to help your friends navigate around the busy store and reach Patty at check-out. Play as either Apple or Onion, and guide your chosen friend around the aisles, avoiding the other shoppers. Just like crossing a road, remember to look left and right before walking! Think fast and use your reaction skills to complete this challenge!
How to Play
Before you start the game, you should understand the controls. The game is pretty fast-paced, so one wrong move can make you restart the level. You can walk to the left or right by pressing the Left and Right arrows on your keyboard. To step forward, you can press the Up arrow or click once on the screen.
Even though you can use all the other arrow keys, you won't take a step back if you press the Down key. Keep that in mind, or you might get hit by the other shoppers!
The game has ten levels in total, and with every level, the other characters increase their speed. Remember that and try not to rush! You should observe the way they walk before moving on to a different aisle. Not everyone is a slow walker!
If you do your best and finish the game, you will get a small surprise at the end.
Are you ready for this challenge? Use your skills and think before you act to reach the end of your shopping adventure!