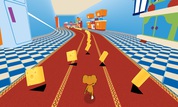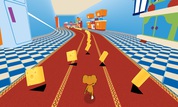 Play Now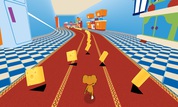 Unfortunately Mouse Speedster is not available on your device. Please try one of the related games below or visit our HTML5 category.
About Mouse Speedster Game
Gather all the cheese you can with the Tom and Jerry: Mouse Speedster game! Have you heard about the wild chases between Tom and Jerry? This iconic duo of frienemies seems to enjoy the adrenaline rush of racing each other through the house.
Are you ready to join in on the thrilling chase? You'll play the role of Jerry, the adorable and ingenious brown mouse. Can you help him escape from the claws of Tom and gather some goodies on the way?
The game consists of a virtually endless race through the house. You'll have to gather as much food as you can while trying not to bump into the many pieces of furniture and other obstacles. Every piece of cheese you collect will count at the end of the race! The best part is that you can improve his skills by earning valuable cheese. Each run is different than the last, so you'll never get bored!
How to play the game
Are you ready to learn how to control Jerry? You're in luck! If you have ever played games like Temple Run, you already know them. To switch between the three racing lanes, use the Left and Right Arrows on your keyboard. Whenever an obstacle comes along, you can go around it or surpass it. To jump, press the Up Arrow, or press the Down Arrow to slide under chairs.
Make sure you collect as many types of cheese as you can! Each one you gather will increase your final score. However, make sure you don't bump into any objects while trying to do so! At the beginning of the game, you only have one life. Therefore, just one unfortunate bump will end the race for you. Yikes!
However, the more you play, the better Jerry becomes. You can invest the cheese you earn to improve your next run by spending on bonuses. The magnet will attract all the cheese pieces around our mouse protagonist, while the helmet will give him another precious life. If you choose to improve the stopwatch, you can slow down the time for a little while, making it easier to navigate the obstacle course. Click on it when you find yourself in a pickle! However, you have to wait for it to reload before you use it again!
Are you ready to join in on a chase that will raise your adrenaline levels? It's so addictive and fun that it will keep you glued to the keyboard for hours. Who would've thought that a mice collecting pieces of cheese can be so entertaining? If you're not convinced yet, just try playing Jerry's role, and you'll find out!