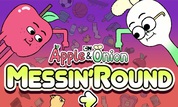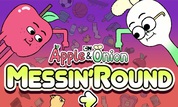 Play Now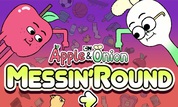 Unfortunately Messin' Around is not available on your device. Please try one of the related games below or visit our HTML5 category.
About Messin' Around Game
Apple and Onion are trying to get a good night's sleep in the Messin' Around game. Their cat disagrees, though! Don't you hate being woken up in the middle of the night? Your friends' naughty pet sure knows how annoying that is, and wants to get revenge on Onion!
The kitten keeps throwing stuff at your poor friend! From socks to shoes and even chairs, the pet has many items up its' sleeve. Your job here is to protect Onion from getting hit by the falling objects. Pay attention and work quickly, because more and more things are getting thrown in the air. Will you be the one to protect your friends?
How to play the game
The controls are quite intuitive. All you have to do is swipe your cursor across the screen, trying to touch the falling items. Every item you hit will disappear, and Apple and Onion will be less likely to wake up. For each item you catch, you will earn some points.
With every passing night, the cat will start throwing more and more stuff at your friend. If you manage to protect Apple and Onion for seven nights, you will be rewarded with a bonus stage that lets you earn even more points. To get the first place, you need to achieve a whopping ten million score, so take advantage of the extra level!
The kitten will get even naughtier starting with the eighth night and will start throwing around even more bizarre items! Just stay focused and try to keep up!
You shouldn't let the mugs hit the floor, because they will break and wake up your pals! Also, try to avoid the ducklings at all costs, cause they will make lots of noise!
Do you think you have what it takes to protect your friends? You should move fast because you're the only one who can stop the mischievous cat!