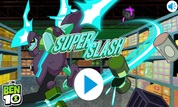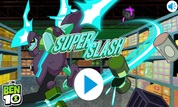 Play Now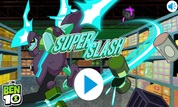 Unfortunately, Ben 10: Super Slash is not available on your device. Please try one of the related games below or visit our HTML5 category.
About Ben 10: Super Slash Game
Ben 10 must cut all the objects in his way in the Super Slash game! It's time for Ben to showcase his powerful talents as Diamondhead in his new and enhanced form! How many items can you slash?
Your job in this game is to slash as many objects as possible while avoiding dangerous bombs! If you're a fan of fun activities like Fruit Ninja, you cannot miss this heroic version! Once you start swinging your blade, nothing will stop you!
How to Play
As different objects are thrown into the air, click and swish your cursor over them to slice them in half. You can cut all the items in one swift movement or slash them one by one. Your score or lives won't be affected, even if you didn't slice all the objects on your screen!
You must pay attention to the bombs amongst the thrown objects. Slicing a bomb will make it explode, and you will lose one of your lives. You only have three chances, so try not to touch any of the bombs with your blades, or it will be game over!
Each sliced object values one hundred points. Slashing multiple items at once will increase your score significantly and offer you a few extra points. You will also receive a star rating based on your high score at the end of the round!
Are you ready to show off your skills and slice through items like they're made of cheese? Nothing can stand in the way of your sharp blades!