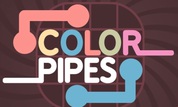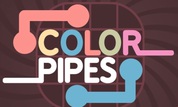 Play Now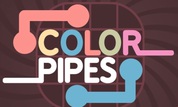 Unfortunately, Color Pipes is not available on your device. Please try one of the related games below or visit our HTML5 category.
About Color Pipes Game
If you are looking for a way to destress after a long day, the Color Pipes game is perfect for you! You'll be spending hours trying to solve this addictive puzzle. What makes it so appealing? The clean design and smart concept are the keys to the game's wild success.
Who would've thought that you can test your intelligence by using colored circles on a dark background? Your mission sounds simple: connect the two dots of the same color. However, you'll soon find out that this is no easy feat!
How to Play
The first step of the game is to decide which difficulty suits you best. One of the best parts of this puzzle is the fact that you have many available options! There are five different levels, each featuring more colored dots and more complex setups than the previous one. Besides, no matter which one you choose, 24 different puzzles are waiting for you. Can you complete them all?
Let's play! All you need to do is use your mouse to select one of the colored dots on the screen. Next, drag your cursor to create a path towards the other dot of the same color. The game ends when all the same- colored circles are connected. What could go wrong?
The catch of this puzzle is that none of the colored pipes you create between dots can intersect. As soon as this happens, one of the pipes you have created will disappear. Don't get discouraged if this happens a lot at first! You should rethink your strategy and use the Undo and Restart buttons at the bottom of the screen. You'll get better in no time if you keep practicing!
Can you finish the entire game? There are 120 different puzzles just waiting to be solved. It won't be an easy feat, but your strategy skills and ingenuity will surely improve along the way!