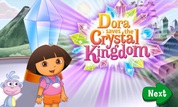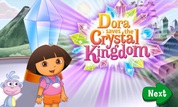 Play Now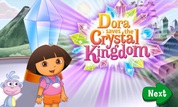 Unfortunately, Dora saves the Crystal Kingdom is not available on your device. Please try one of the related games below or visit our HTML5 category.
About Dora saves the Crystal Kingdom Game
It's time to ride the rainbow towards a magical land in the Dora saves the Crystal Kingdom game! The Greedy King has stolen all the colorful gems, and they're nowhere to be found. Now, Dora the Explorer must go after him and bring back the missing treasure. Can you help her bring back the color to the Crystal Kingdom?
Let's begin the adventure! Your goal for this quest is to find the lost gemstones and restore peace to the land. To do this, you'll have to prove your skills at three different missions and take down the King. Are you confident you can overcome all challenges and save the day?
How to play the game
Welcome to the Crystal Kingdom! To guide Dora around and complete the quests, you'll need to use your mouse. Click on the correct elements, break the rocks, and find the missing letters. To face the Greedy King, you'll have to click on the magical wands and use your powers to defeat him!
For your first mission, the yellow crystal is hidden inside a cliff. To find it, you'll have to help the Dragon break all the stones. However, each rock has a number on it, and you'll have to destroy them in the correct order before you can reveal the treasure. Show off your counting skills and overcome the quest to move on to the next challenge!
For the second objective, you'll have to visit a dark cave. The crystal is hidden in one of the cocoons, and you must match them all to the words below. The first letters are missing, so you have to pick them from the items in front of you. Don't worry if you make a mistake, and keep trying until you select all the correct answers!
Finally, it's time to face the King! You have to use your magic wand and take down the enemy to obtain the red crystal. Keep your eyes on the light beam, and select the right color to fight against the villain. Keep up the battle long enough, and the treasure will be yours!
There's no time to lose! Dora the Explorer is counting on you to help her save the Crystal Kingdom. Can you overcome all the quests and obtain the magical gems?