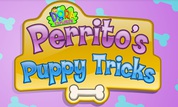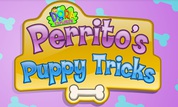 Play Now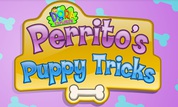 Unfortunately, Perrito's Puppy Tricks is not available on your device. Please try one of the related games below or visit our HTML5 category.
About Perrito's Puppy Tricks Game
Spend a fun day in the courtyard with Dora's adorable fluffy friend in the Perrito's Puppy Tricks game! Perrito is ready to learn some new puppy tricks so he can entertain Dora's friends at the next fiesta! For every trick he does well, Perrito will receive a treat. Everyone knows how much the puppy loves his treats! Will you help him succeed?
It's not easy learning new tricks, so your goal in this game is to help teach the little puppy how to sit, fetch, roll and jump through hoops! Try to remember to reward him with a treat now and then! Don't worry! Perrito is a fast learner, and he will impress everyone with his new moves!
How to Play
Your mouse is the only tool you need to help Perrito! Click on any of the tricks displayed at the bottom, then follow the instructions! Click around the courtyard to make Perrito move and learn the tricks. Once you think you've taught the young pup everything, click on Done and watch him perform!
You need to help Dora's fluffy friend with just a few tricks. Throw the ball around for Perrito to fetch. Then point to a place and teach him how to sit and roll. The most impressive trick will have Perrito learn how to jump through a hoop. It seems like a difficult job for such a tiny pup, but he is very motivated!
Every well-done trick deserves a prize, so don't forget to feed Perrito a bone! Click on the little treat jar and drag it to the pup to reward his success! Make sure you give him his little bone, or he will not continue his training!
Now that you know all about dog tricks, will you be able to teach Perrito a few moves to impress his friends? Vamonos! It's time to move!