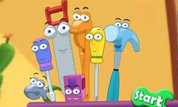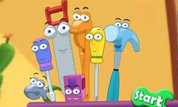 Play Now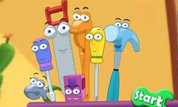 Unfortunately, Hop Up, Jump In is not available on your device. Please try one of the related games below or visit our HTML5 category.
About Hop Up, Jump In Game
Manny loves to help the other people around him. He is always there for his neighbors, his friends, and even for those who he does not know. Anytime there is something to fix, Handy Manny takes his instruments, and starts working. In Hop Up, Jump In game, he needs a little help to get them in his box. You can help him by moving the chair from one side to the other one, and the tools will get in the box without falling on the floor.
Before you start the game, you can practice a bit. Do not worry if you drop the instruments for a few times. You will catch them the next time. You can practice for as long as you want until you become the best.
When you finish with the practice mode, and you start the game, you will have one minute to catch as many instruments as you can. Be careful and move fast. Some of the tools will jump before you get the other one in the box. If Manny's box is packed, he will be able to help more people, and he will fix many things in town.
Manny will stay by your side, and he will tell you what to do. You can count the instruments with him, and learn some Spanish words. Once the time is over, the game ends, and Manny can go to his work. Make sure you fill his box fast, and he has everything he needs to finish his tasks.