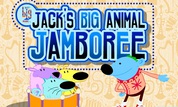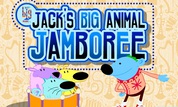 Play Now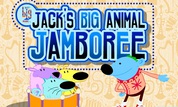 Unfortunately, Jack's Big Animal Jamboree is not available on your device. Please try one of the related games below or visit our HTML5 category.
About Jack's Big Animal Jamboree Game
Join Jack in collecting all the pets stuck in the music machine in Jack's Big Animal Jamboree game! Jack, his pal Mary, and her dog Mel love making music together! They're always in the clubhouse, learning about instruments and musical notes! Recently, they built a music machine, but instead of playing songs, the robot is throwing out animals! Will Jack manage to gather them all?
Your job is to move Jack around the clubhouse as the machine spits out animals and catch them in his empty drum before the time runs out! Jack and his friends are ready to return to playing with music once all the pets are safe, and only you can help them!
How to Play
You need your mouse to catch the pets in your big drum. Move your cursor around the room until you align Jack with the animal's trajectory shadow. You can only fit three animals in your drum before emptying it. When you've collected three pets, you can move to the crate labeled Animals and store them in there to free your drum!
Pay attention to the animals that the machine throws out. They are different species, colors, and shapes! They also make several sounds, which indicate what animal you need to catch. If the wrong pet gets into your drum, it will bounce out immediately and stun you for a moment or two.
In each level, you need to collect a particular animal. Catch as many pets as possible in your drum and dump them in the box. Try to do so before the timer at the bottom of your screen runs out! Once it's empty, you will receive a score based on how many pets you've collected!
Will you manage to gather all the brightly colored pets and save them from the music machine? Let the music guide you!