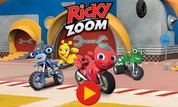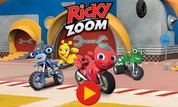 Play Now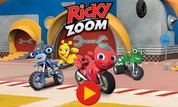 Unfortunately Ricky Zoom: Room with a Zoom is not available on your device. Please try one of the related games below or visit our HTML5 category.
About Ricky Zoom: Room with a Zoom Game
Go on a scavenger hunt and find all the missing items in the Room with a Zoom game! Ricky Zoom and his motorcycle buddies have scattered objects all around the area. Now, they want you to join them and help uncover every single one. Are you ready to begin the search and see if you can complete the mission?
Let's look around and see what you can find! Your job here is to visit the four rooms and search for the missing items inside. However, some are hidden in unexpected places, so they will be difficult to locate! Now is your chance to show off your amazing observation skills and attention to detail.
How to play the game
It's time to get the search started! Luckily the only tool you need for this challenge is your mouse. To look around, click on the arrows and move through the room. Once you've seen something, all you need to do is tap on the item to pick it up!
Loop, DJ, Scootio, and Ricky are all waiting for you to find the missing objects! Can you help them locate the five missing items throughout each room? Keep in mind that the challenge isn't over until you have all of them! You just need to pay close attention without missing a single spot.
Remember that sometimes the items are hidden behind doors or in boxes! It is difficult to see them just by looking around, but you can use the glasses to get a hint. After grabbing them, you'll have x-ray vision for a limited time and be able to see anything around you!
There's no time limit for this mission, so you don't have to rush. Instead, you can slowly look through the area until you locate all the items. As you keep playing, you'll surely get better at guessing where each object is! How cool is that?
Are you prepared to begin the search? If so, join Ricky Zoom and his cute buddies and do your best to complete the puzzle!