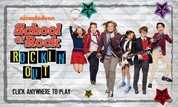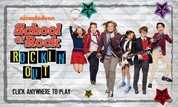 Play Now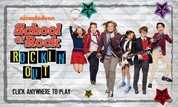 Unfortunately, School of Rock: Rockin' Out is not available on your device. Please try one of the related games below or visit our HTML5 category.
About School of Rock: Rockin' Out Game
The School of Rock band must arrange their songs in perfect order before the next concert in the Rockin' Out game! Tomika and her friends have composed many songs over the time they've been in the band. Unfortunately, their recordings are all scrambled now, so they must put the tracks back together, or they can't perform! Can you give them a hand?
Your job in this game is to put all the pieces of a song in the correct order and restore it section by section until it's complete! This fun activity will test your memory and musical ear, so try to listen and rebuild the songs before time runs out!
How to Play
First, select which song you'd like to work on with the band. Then, you'll be able to choose what section you want to put back together. You must listen to the specific part you picked and do the same with the pieces at the bottom of your screen. To move the cards in the correct order, click and drag them to one of the spots, then play the song again!
You'll need to place all the pieces in order before the timer runs out. Depending on its length, each song will have a different time limit. Once you play the track, the timer will stop, but if you make a mistake, the countdown will continue until you've found the correct answer.
If you feel stumped and can't figure out the order of the songs, you can click on the Hint button. It will reveal the place of one of the cards and help you with your task! There is no limit to the Hints, so you can ask for as many as you need to complete the song!
Now let's get going! Are you ready to restore the band's songs and jam out at their next concert? It's time to put the rock back into Rock'n'Roll!