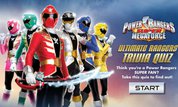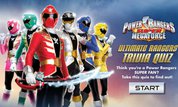 Play Now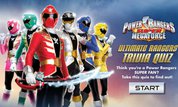 Unfortunately, Ultimate Rangers Trivia Quiz is not available on your device. Please try one of the related games below or visit our HTML5 category.
About Ultimate Rangers Trivia Quiz Game
Give the Power Rangers Super Megaforce: Ultimate Rangers Trivia Quiz game a try and get to know your favorite characters and series a lot better! Have you been a Power Rangers fan for a long time? Have you seen all the different series and played or the games? Or are you just beginning to discover the thrilling and fascinating world of this iconic team of teenagers? Either way, you will surely enjoy answering the questions and learning more interesting information!
The game consists of a series of ten inquiries that will surely have your wheels turning. Each question has four different answer options. What is more, they are illustrated to give you an extra hint! You can even navigate between the topics by using the buttons at the bottom of the screen. This allows you to review some of the questions and also to change your mind as you go along!
However, things are not as easy as it seems with this quiz game! Did you know that there are over 25 different series in the Power Rangers franchise? And they are incredibly diverse as well! This game includes questions from most of the installments. Do you think you know all of them well enough to answer all of the questions? With titles such as Beast Morphers, Super Samurai, Dino Charge, or Ninja Steel, they are so diverse and unique! Do you think you can keep up with them, or are do you need an emergency Power Rangers marathon?
When it comes to this quiz, you should expect the unexpected!
The questions in this quiz refer to multiple aspects of the episodes and games in the franchise. For instance, the first question regards the Super Megaforce series. As you should know, the Rangers can morph into any of the Legendary forms in this installment! Can you remember which type they chose first?
Other questions will concern the different Ranger keys, recognizing the Zords or different mentors that have guided our main characters through their adventures. Can you remember specific events that have shaped the fate of this awesome team? Some of the questions will get into great detail, so I hope you are prepared!
Did you manage to get through all ten questions? Now you're just one click away from finding out the results! You will receive a grade out of ten and a short characterization of your skills. Don't get discouraged if you don't get a high score on your first try! You can always do some extra research or watch an episode or two to improve your score! Can you achieve a perfect ten?