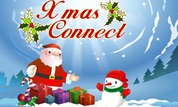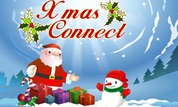 Play Now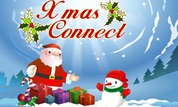 Unfortunately, Xmas Connect is not available on your device. Please try one of the related games below or visit our HTML5 category.
About Xmas Connect Game
Don't miss out on the Xmas Connect game if you are a fan of the holiday spirit! Any puzzle game enthusiast will have lots of fun in this simple yet addictive challenge.
Spending a few hours surrounded by Christmas decorations is bound to cheer up even the most bored player. Besides, the music and the snowy background will make you feel like you have arrived at the North Pole!
This exciting puzzle challenge consists of sixteen levels, each a little harder to solve than the previous. The number of tiles will increase every step of the way! Can you keep up and solve the level before the time runs out?
How to Play
Let's start playing! Your mouse will be the only tool that you need. Use it to click on two decorations of the same type. However, you should pay close attention! For a match to be correct, there can only be two 90 degree angles in the path connecting the two tiles. Besides, you will also need to have enough clear space between the two. Do you think you can do it?
Luckily, there are a few extras that can help you complete a level in under 5 minutes. Don't forget that time is limited! If you fail to finish the stage before the clock runs out, you will restart the entire game. Yikes!
Your first option if you get stuck on the matches is to choose a hint. Secondly, if there are no more combinations that you can find, don't hesitate to click the shuffle button! It will rearrange all the tiles on the board in a different position, offering more opportunities for a correct match. However, keep in mind that you can only use these two helpful buttons three times for each level!
Did you know that there is a combo bonus? If you manage to create many matches in a row without more than two seconds between them, you get a score boost. Therefore, the quicker you are, the higher the chances to reach the high score list!
As soon as you start playing, you might find that it's hard to stop. Therefore, prepare yourself for an addictive and cheerful Christmas puzzle game!