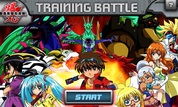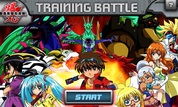 Play Now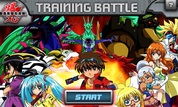 Unfortunately, Bakugan: Training Battle is not available on your device. Please try one of the related games below or visit our HTML5 category.
About Bakugan: Training Battle Game
Prepare to enter the Bakugan Arena and partake in epic battles in the Bakugan Training Battle game! However, you should choose your brawler carefully before launching it into the fight. Can you defeat all of your enemies and become the next champion? Let's see if you got what it takes!
Your role is to jump into the fight alongside your chosen Bakugan and win the round! At the same time, the Gate and Ability cards will be the factors that will determine the outcome. With a good combination of skill and luck, you will be unstoppable!
How to play the game
To start, you first need to choose your Bakugan before entering the Arena! Your options are Pyrus Dragonoid, Haos Saurus, and Darkus Siege. After you've decided, use the Spacebar to send your Bakugan into the fight! The most important part is to keep an eye on the speed meter while preparing to launch!
After putting the Bakugan on the Gate Card, it will open up to display your brawler and their G-Power. Next, you need to wait for your opponent to make his move. Once both of you have their Bakugands in position, the Battle will begin!
Now it's time to reveal the Gate and Ability Cards! Depending on what type of Bakugan you've chosen, its G-Power will accumulate with the corresponding color on the two cards. After the calculations are over and the results are through, you will see if you have defeated the opponent or not. The most powerful will always win!
The time came to start the action! Are you ready to jump into the fight with the strongest Bakugans in existence? See if you have what it takes to become the master of the Bakugan Arena!